Website last updated on May 25, 2016
About the Federation
Under the guidance of †Father George and Presvytera Anna Gallos, the Southeastern Federation is made up of individual member choirs of the Metropolis of Atlanta that includes the states of Alabama, Florida, Georgia, Louisiana, Mississippi, North Carolina, South Carolina and Tennessee. These Orthodox choirs, like others all over the nation, have joined together and through the medium of annual conferences, district workshops, area gatherings, and special programs have strengthened the quality of Greek Orthodox Church music. Learn More »
History of the Federation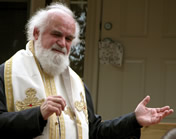 The first organizational meeting of the Southeastern Federation was held in Spartanburg, SC on February 13 and 14, 1976, chaired by Fr. George Gallos, of blessed memory. A choral workshop by Presbytera Anna Gallos, Director of Music, was also held.
Learn More »
Click here for the Full Archive of News Releases
Recent News
2016 Choir Conference
SAVE THE DATE !!
40th Annual SFGOCM Conference
July 28-31, 2016
St. Mark's Greek Orthodox Church
BOCA RATON, FLORIDA
Guest Conductor, CHRIS KYPROS
Music, LITURGY OF PEACE
Recent Newsletters
VP Summer 2016 Membership Letter